In celebration of Chinese New Year and the Year of the Dog 2018, we're bringing back Get Lucky, a free one-day art show, for a second year (check out last year's recap). Vancouver artists have created artwork on red pocket/lucky envelopes – trust us, these pieces will blow you away. The show is timed with the annual Chinese New Year Parade – and it's right on the parade route.  Come get a full dose of new year fun and support the incredibly creative culture we have in Vancouver.
Get Lucky Art Show
Sunday, February 18, 2018
11am – 4pm
Fortune Sound, 147 E Pender St, Vancouver
On the Chinese New Year parade route! (see map below)
This Year's Highlights
Lucky Red Envelope Art by 35+ Vancouver Artists
Special Launch Exhibit of Chinatown Tales: Illustrations by Chairman Ting
Pop-Up Bazaar of Local Art + Wares
Dumpling Bar by Dickson Li
Snacks, drinks, music, awesome prize raffle, and more!
Free Tickets
Get your free tickets*
All ages welcome. Bring your friends and family (babies and grandma, too!)
*Donations gratefully accepted; help us put on more community events like this.
Participating Artists
Lucky raffle prize sponsors
---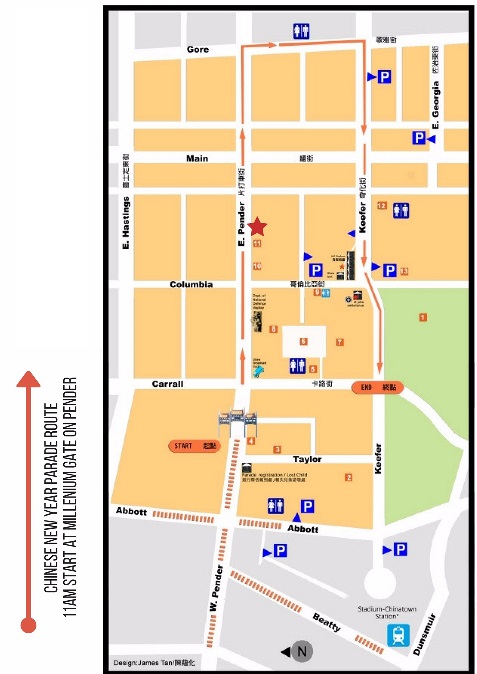 Why Chinatown? As the landscape of Chinatown rapidly changes, it is part of an ongoing discussion for us and many others to activate community participation in the neighbourhood in creative and meaningful ways. In bringing together local artists around an iconic cultural celebration, we hope to inject a bit of fun with culturally relevant events that bridge connections between new and old.
Nuanced by the grit and grime of its historic locale in Vancouver's Chinatown, Fortune Sound Club seamlessly blends high and low by bringing up-from-the-street ambience into a clean and modern setting. What was once the infamous Ming's Chinese Restaurant is now a revamped space focusing on innovative design, art that can't be messed with, and eco-friendly features.
District Local is a living, breathing anthology of Vancouver happenings and good people doing good things. Coffee shop poetry slams. Weekend markets. Art shows. Photo walks. Breaking bread with strangers. We want to nudge you out of your comfort zone and get you out to experience and enjoy more of what this city has to offer. We've always got our eyes and ears out for the next rad thing – hit us up for event tips, collabs, and partnerships.